Bing Search Bot
The Bing / Microsoft Rewards Search Bot automatically searches on Bing.com to earn Microsoft points! These points can be used to purchase Amazon gift cards, XBox Live membership and much more!




Bing Search Bot Features :


Multiple Accounts : Auto rotates through all your Bing accounts! Go ahead and create multiple bing accounts and the bot will cycle through them one by one and and max out your points each day!
Search for : Web, Images, Video, News or Random
Search Count : Set how many searches you would like to do on your Bing accounts.
Sleep Delay : Set how long you want to wait between searches. If you wish to set a random time delay, use the format "5-15" to sleep 5 to 15 seconds between searches.
Search Words : Build your own search word list or import a dictionary file. The search bot will auto pick a word / phrase randomly from the list.
Feel free to use our dictionary file.
Auto Collect : Auto collect your points each day! Simply set the time you would like the search bot to collect your points - start it up and let the bot handle the rest for you!
Mobile Searches : You can now earn an additional 10 points each day by searching on the Bing mobile site.
Searches Per Account : You can now specify how many searches you would like to do for each account. In the "Login List" tab, enter in your information like this : EmailAddress/Password/SearchCount
Detect Captcha Support : If a Captcha screen is detected, the bot will pause and wait for you to fill it out. You will also hear an audio beep once every 2 seconds to let you know that captcha screen is showing. This option can be enabled/disabled in the "Misc Options" tab.
Record Point Totals : The bot will record your current points when it's finished searching on that account. It stores this information in the BingCredits.txt file. It logs how many points each account has collected since last run -and- the accounts current &amp lifetime point totals.
Bing Dashboard Daily Offers : The bot will do the daily offers on the Bing Dashboard page. You can enable this feature in the "Settings" tab.
Skip Account Button : You can skip to the next account while the bot is seaching. This button is only available when you are logged in to an account and searching.
Random Search / Wait Options : All search & wait options accept random parameters - Sleep XX-XX minutes/seconds.
Top Keywords Option : When enabled, the top keywords file will be loaded each time you start the bot. This file contains the top searched for keywords from Google, Yahoo and Bing and is auto updated twice per day (12am / 12pm PST). Enable this option in the "Search Words" tab for the URL to preview the keywords.
Emulate Human Behavior Option : When enabled, it will emulate human behavior by scrolling up/down the results page, occasionally clicking a search result and/or navigating to Page XX of the search results. You can find this new option in the "Misc Options" tab (Enabled by default).
Proxy Support : Added basic & SOCKS proxy support to BingSearchBot.
Process Tasks in Random Order : When enabled, the bot will process the tasks (desktop searches, mobile seaches & dashboard tasks) in random order. You can find the new option at the bottom of the "Misc Options" tab.
Microsoft Rewards Support : The bot now auto detects if the account is Bing Rewards / Microsoft Rewards and processes your accounts accordingly.
Windows 8 Users : If the bot is not working correctly for you, please 'right click' the BingSearchBot.exe icon and put a check mark beside 'Run this program as an administrator' (found in the 'Compatibility' Tab) and click 'Apply'.
BingSearchBot is fully compatibile with Windows 10.

Current version : v2.7.1 -
View ChangeLog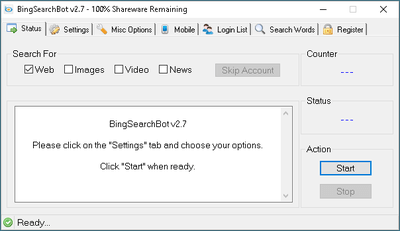 The Bing Search Bot is free to try - once your shareware runs out, you will need to purchase a license below if you wish to continue using it. The license costs $9.97 - which includes free updates for the life of the product!
Please read the following below
Refunds will not be issued after 14 days from purchase.
If you do not receive your password, please check your spam / junk mail folder before contacting support. The passwords are emailed automatically to you within 5 minutes after your purchase has been processed successfully.
You can contact us at :