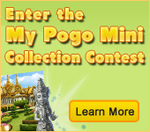 Be a Pogo Mini designer! Here's your chance to design your very own Pogo Mini collection.
Pogo is in search of some visionary talent. Break out your imagination skills and get ready to design your own Pogo Mini line.

Come up with a great theme that includes 4 non-animated Pogo Mini backgrounds and/or goodies. Pogo's team of talented artists will turn one lucky player's vision into reality. The final pieces will be featured in the Pogo Mini Mall in a future release.
Submissions must be received by April 30th, 2012