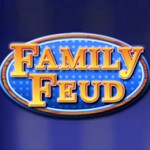 Here is a sneak peek at the Family Feud badges. The game will have 50? ranks and 5 rank badges.
This game will most likely be a lot like Family Feud on Facebook.
Guest players and Pogo players will have access to limited amount of questions.
Club Pogo members will have access to all the questions, the ability to save scores, earn tokens and 5 rank badges.